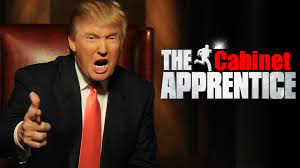 JCwire Washington, D.C.
Monday evening President-Elect Trump debuted a Realty TV show, entitled "Cabinet Apprentice." The Billionaire Real Estate tycoon and former host of "The Apprentice" and "The Celebrity Apprentice" said he hopes to make an even bigger hit with the new show, airing on Fox Wednesday evenings. Rumors have been flying as Trump has received scores of candidates at Trump Tower and the Trump National Golf Club. No press announcements have been made to date, leaving reporters scampering for conjecture as to what was happening behind closed doors.
"Now the American people will get a chance to see exactly what happens when their government officials are chosen. No more secretive meetings. You can see exactly how I negotiate, how I hire, and of course, how I fire!" Mr. Trump finished with a laugh.
No reporters were allowed in the broadcast area during this televised announcement. However, emailed questions were entertained. "Here's one about public involvement. No, the public doesn't get to vote on these contenders. This isn't "American Idol," said the President-Elect. "I'll pick them myself. But you can make your guesses. The person who guesses correctly first will win a major prize, a huge prize: The Trump Gold Medal of American Stewardship. He or she will also be my guest at a dinner in Trump Tower. No, you pay your own travel expenses."
"Here's another question. It will take only a few days to make each appointment. However, I will be tweeting my thoughts as I interview candidates. Those who are following me will get the inside track. You can also review the interviews on Youtube."
The announcement seemed to answer questions of Trump's receiving past critics as guests. Shows with stronger conflict generally get higher ratings. Also, Mr. Trump may be setting up some disloyalists for a public flogging.
Finishing with one last request, Trump said, "No, this will be private enterprise, not public. Proceeds from advertising and product tie-ins will revert to the Trump Organization. Of course, some public funds will cover rental of Trump properties for government business, and security services including the Secret Service. After all, I am President."